We are all about Spay/Neuter
SNIPPET
Spay Neuter Initiative Partnership Project of East Texas focuses on the reduction of unwanted litters in our community, which in turn brings down the homeless pet overpopulation and the extremely high rate of euthanasia by local animal control agencies.
SPAY/NEUTER is the only HUMANE answer to reducing the number of dogs and cats euthanized every day.
Clinics every Tuesday, Thursday, and Friday
Why Spay or Neuter your Pet?
Every year, thousands of animals are euthanized due to overpopulation. We simply have more animals than we have homes for. Please spay or neuter your pet. As well as helping with decreasing overpopulation, you will also increase the health of your pet.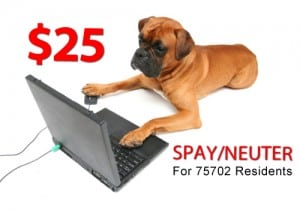 Spay/Neuter
Prices Available to all Dogs & Cats in East Texas
Female Dogs* $65.00
Male Dogs* $60.00
Additional charge if:
Over 75 pounds, In Heat, Pregnant, or Crypt Orchid.
*Price Includes E-collar For Dogs*
Female Cat* $45.00
Male Cats $35.00
*Additional charge if in Heat, Pregnant or Crypt Orchid
$10.00 RABIES VACCINATION REQUIRED
Unless Proof of Vaccination Provided
Vaccinations/Microchip/Heartworm Test & Pills/Flea Prevention & More:
Available ONLY to animals scheduled for surgery.
Click Here for Full Price list of Surgeries & Vaccines
 Clinic Location: